Laser technology for metal machining is a very precise process that involves the direct emission of an energy-dense light source onto a specific area of material in order to cut, weld or engrave it with extreme cleanliness and speed.
Developed in the 1960s, laser technology has improved over time, becoming increasingly accurate, fast and versatile. These features have revolutionised the production of companies, especially in the metal industry. In this article we will take a closer look at what laser technology is, its advantages, its applications on metal and stainless steel, with a focus on our machine pool and the machining operations we carry out at Metal's on semi-finished products and complex stainless steel assemblies.
Types of lasers used for metal and stainless steel processing
Generally speaking, there are three types of lasers most commonly used in the industrial and metalworking sectors:
CO2 laser: its operation is combined with the use of a carbon dioxide gas mixture, stimulated by electrical discharges. Used first in the manufacturing industry due to its processing speed, stability and sustainable costs of the systems, this type of laser is recommended for high quality processing including cutting sheet metal, plastics and organic materials. It is often used in the packaging industry for welding films.
Fiber laser: the light beam is combined with low-power diodes that allow the current to pass in a single direction. The wavelength of the laser is shorter than that of the CO2 laser, allowing its application even on metallic materials that are difficult to treat. Fiber systems are reliable, long-lasting, consume little energy and do not need much maintenance. This is why they are used for both metals welding and cutting, as well as for micromachining.
Solid-state laser (or Yag laser). In this case, the laser is activated thanks to the energy produced by a light source (such as a lamp) on the crystal lattice Yag bar. The light introduces energy into the crystal and triggers the process useful for manufacturing. This technology gave birth to the fiber laser, which is better in terms of work quality and performance. In fact, thanks to the replacement of the lamp with diodes, duration and the wavelength are improved and there is no waste of energy.
The advantages of laser technology in metal machining over traditional techniques
Choosing laser technology for metal machining offers several advantages, especially in cutting and welding. Here are some of the most important ones:
Precision, cleanliness and speed. The laser works on a precise and limited area of material, without the need for additional finishing, thus offering maximum accuracy and high processing speed, even on the most complex surfaces.
Lower risk of material contamination. Especially with regard to cutting, laser technology (as opposed to traditional processing using, for example, blades) avoids the risk of contamination with other materials.
Customisation and flexibility. Thanks to the integration with automated and computerised production systems, it is possible to faithfully follow a design, whether simple or complex, making it unique. Furthermore, it is possible to use the machining process on several materials to achieve different geometries and finishes.
Versatility. Laser technology can be used on various metals, from stainless steel to steel, as well as other materials such as glass or wood.
Reducing material waste. Laser technology allows you to work on a specific area and reduces material waste, whether stainless steel or another metal.
Safe automated process. Laser technology is usually followed remotely, through a computerised system. This increases the safety conditions of employees and opens up even more to the industry 4.0 model.
Production efficiency. When the project is monitored at every stage, the production cycle is improved – even on large numbers – saving time, costs and energy.
Low consumption. Laser technology is faster than other types of traditional processing: this optimises consumption, including energy, and reduces production costs.
Reduced maintenance. Laser technology does not require frequent maintenance; moreover, thanks to the computerised system, machine monitoring is constant, punctual and precise. In this case, any replacements or interventions are targeted, fast and timely.
Laser processing for stainless steel and metals
Laser technology for metal machining has improved a lot over the years and can meet the different needs of the sector. Laser, in particular, can be used for four processes.
1. Cutting
The laser cutting procedure for steel and metals consists in the thermal separation of the material to obtain the desired geometry. After setting up the machining project on the system, the laser beam strikes the surface of the sheet of material to be processed and begins the operations remotely, as programmed. It allows different types of materials to be cut with high precision, with different thicknesses and of any shape, without inaccuracies.
2. Welding
Laser welding for steel and metals allows to join two or more pieces of metal into one. To do this, the equipment must direct the laser beam onto the pieces to be joined, generating thermal energy that locally heats the material, melting it. Welding can be limited to a single point or continue along the entire length. Also in this case, the processing takes place remotely and is precise, burr-free and long-lasting.
3. Combined laser punching
The punching combined with laser should also be mentioned. With this process, holes are obtained on the metal sheet thanks to the strong and repeated pressure of a pointed tool on the metal (the punch), which deforms the surface until the desired hole and shape are obtained. To reduce processing time, costs and improve the production result, there are systems that combine punching with laser cutting technology.
4. Engraving
Laser engraving on metal and stainless steel is used to customise a product, for example to create company logos, names or designs, even in colour, but without the use of inks or other chemicals. To proceed with engraving, you need first to create the layout of the desired design, using a common graphics programme, and then proceed with machining.
5. Marking
Similar to engraving, laser marking for metals and stainless steel is a process that allows to imprint a mark on the material and differs from the former in the type of processing. Marking, in fact, melts the metal by creating grooves; whereas engraving vaporises it. Marking is used for aesthetic reasons (e.g. to add customised logos and graphics to the metal) but above all to facilitate industrial traceability without the use of inks, acids or solvents. Being a permanent process, it is counterfeit-proof.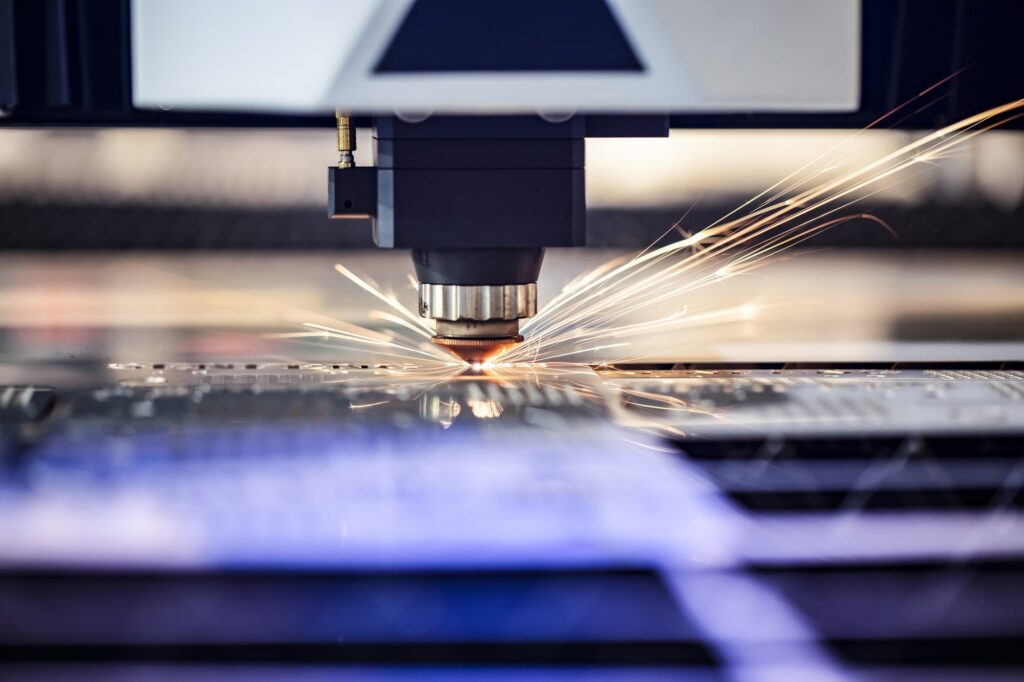 Applications of laser technology in metalworking: from shape cuts to welding
High precision, cleanliness and speed of execution make laser technology one of the most requested procedures to realise projects for companies operating in various markets: including the metalworking one. A sector that goes from medical to food industries, from packaging to bottling.
Laser cutting technology, for example, allows to make shaped cuts on stainless steel sheets to give shape to the details that make up appliances such as ovens, industrial dishwashers, and elements for professional kitchens or refrigeration. Thanks to laser cutting, then, it is possible to create particular and clean joints and geometries, following a customised design agreed with the customer in the initial stages of the project. Similarly, laser welding allows different metal parts to be joined together without burrs and imperfections. For example, by setting up the laser welding system remotely, through automation, it is possible to join steel elements such as those of a switchboard or electrical cabinet, doors or other elements of the desired product.
To achieve the best result, specific state-of-the-art systems are needed for the various phases of laser processing on metal, followed by a team of workers specialised in laser cutting and welding, as well as in marking or engraving. The latter are processes that may be required by the customer to engrave or imprint details on the material. For example, they are useful for adding the shape of a clock or a brand logo on an industrial oven, without adding inks or applying adhesives.
Therefore, this technology – which allows cutting, welding, marking and engraving of different layers of material and even on different types of material (such as glass or plastic) – is perfect for the production of complex assemblies and machines parts for example for the catering industry such as ovens, meat processing machines, slicers, homogenizers, liquid and solid separators.
The advantages of laser technology for the food and pharmaceutical sector
The applications of laser technology on stainless steel and metals are numerous and advantageous, and recommended especially in certain sectors, such as the food and pharmaceutical industries, which have to meet particular hygienic-sanitary requirements, guarantee correct cleaning of machinery, and ensure traceability.
Choosing stainless steel as the material for manufacturing products for this sector, rather than other metals, is already a good starting point for responding to the needs of these markets. Stainless steel, in fact, prevents contamination, is hygienic and lasts longer than the others.
In particular, at Metal's we have chosen to keep processes involving other materials separate: any processes on non-stainless steel products are isolated in separate locations. In this way, powders from other materials cannot contaminate stainless steel products or compromise their characteristics.
Using laser technology in these areas offers numerous advantages. In particular:
enables fast, precision machining that optimises time and production;
ensures maximum hygiene in the product manufacture as the laser never touches the surface, thus also avoiding any contamination
offers quality processing that needs no further touching up or finishing
does not require the use of chemicals, adhesives and chemical additives;
allows product components to be easily identified by marking, facilitating traceability and the inclusion of key data such as batch number and expiry date on the packaging of food packaging products, avoiding additional packaging.
For this reason, laser technology is increasingly used in the food and pharmaceutical industries to make, for example, oven chambers, mincing machines, meat processing machines, slicers, homogenisers, liquid and solid separators as well as x-ray systems or parts of medical machines, with high-performance, easy to clean and sanitise.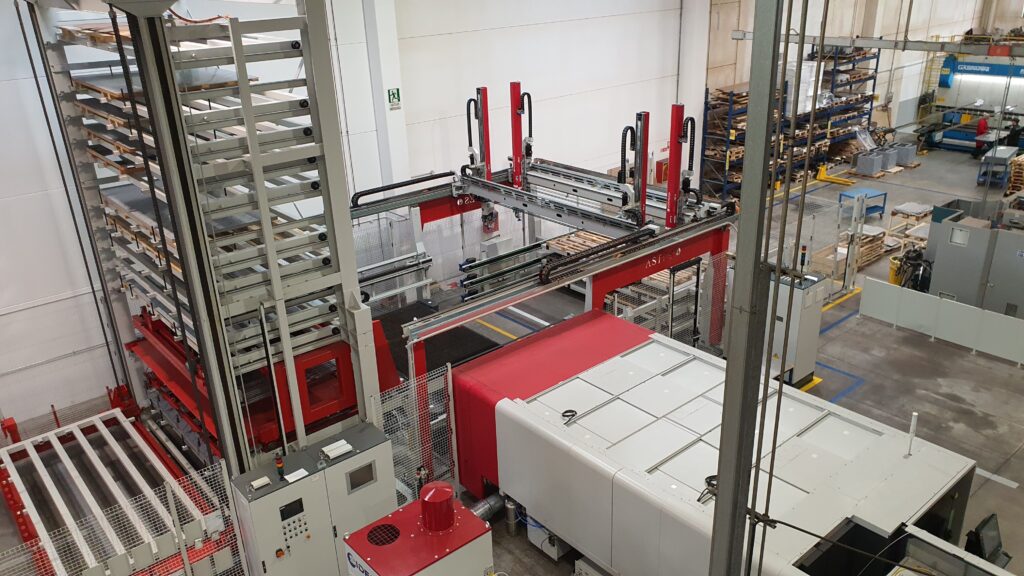 Laser cutting and welding: Metal's excellence
Laser machining is definitely the most modern technology in the field of steel processing. It offers numerous advantages and evolves over time, perfecting itself in every aspect. At Metal's, we decided to invest in this type of processing right from the start, focusing mainly on welding and cutting, also offering marking and engraving services, according to customer requests.
Our fleet of laser technology machines, always at the forefront
Furthermore, at Metal's, we have chosen environmentally friendly and energy-saving equipment that allows us to maximise production, reducing consumption to respect the environment, but without sacrificing the quality of the work. We have a large fleet of laser cutting and welding machines, in operation every day of the week, 24 hours a day.
As far as laser cutting is concerned, which corresponds to the first processing stages in the production process, we have – among others – a MITSUBISHI fibra 8 kW laser cutting system with 3000×1500 planes with a cutting capacity of up to 200/10 stainless steel with automatic loading/unloading which allows us to process stainless steel of different thicknesses. We can also carry out drawing with a height of up to 20 mm, threading and, in some cases, bending thanks to equipment that combines laser cutting and punching technologies.
Welding, on the other hand, is one of the finishing stages of the process. At Metal's, in addition to pulsed TIG and digital MIG equipment, used on robotic islands, we can carry out laser welding processes that allow for easy cleaning and restoration of surfaces. Our welders are certified according to UNI EN ISO 9606-1:2017 and the quality of our welds is certified EN ISO 3834-2:2021.
New purchases with laser technology
In order to improve production efficiency and offer increasingly targeted services in Metal's, we decided to invest in the purchase of state-of-the-art equipment.
For example, we added a new 8 kW Mitsubishi laser fibra laser cutting system with 4000×2000 tables and Astes4 part separator, capable of processing stainless steel thicknesses up to 250/10. Equipped with a 12-drawer automatic nesting tower, fully automated part picking and sorting technology, this plant greatly simplifies the machining process, allowing a smooth production flow with minimal human interference and logistics.
Another plant can cut pre-bent, deep-drawn parts, profiles and welded assemblies in 3 dimensions.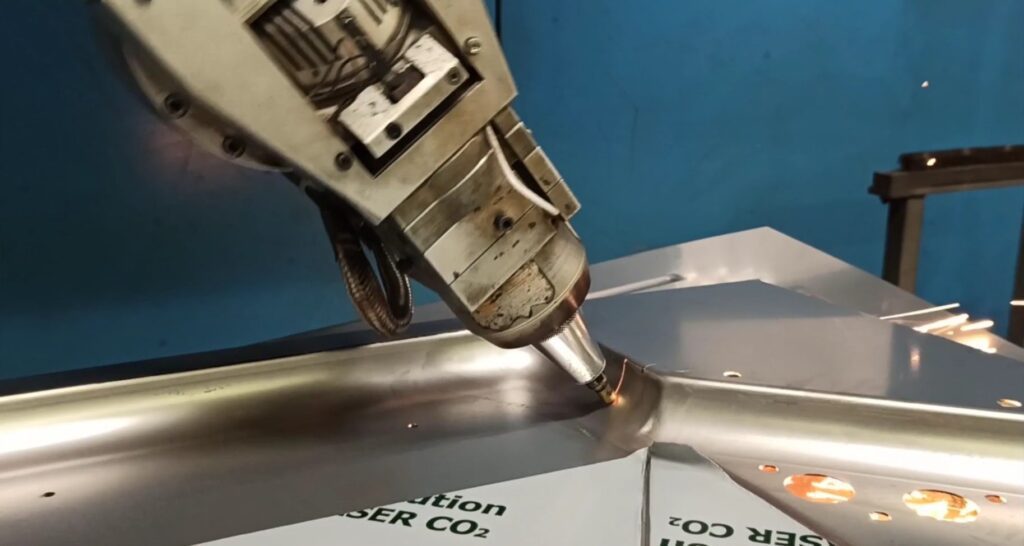 As far as welding is concerned, on the other hand, we have recently introduced new welding machines with fiber laser technology in our production departments. A valid alternative to the best-known welding processes – such as MIG and TIG, for example – in order to speed up production, obtain a clean product with great aesthetic quality, minimizing pre and post welding operations.
One of our next goals is to develop a new automated plant with this laser welding technology, with the aim of improving efficiency while maintaining high-quality levels.
Do you want to know more?
Rely on Metal's to give shape to your projects. Our fleet includes laser technologies for metalworking and state-of-the-art equipment for cutting, welding and, if necessary, marking and engraving.