Stainless steel is one of the most used materials in the food and medical sector because it offers numerous advantages and avoids the risk of contamination. Composed mainly of iron and chromium, combined with other alloys in different quantities, stainless steel is long-lasting, corrosion-resistant, easy to clean and maintain. Let's take a closer look at its advantages, why and when it is most recommended.
Characteristics and properties of stainless steel
There are different types of steel on the market, varying according to the presence – or not – of phosphorus, silicon, boron, vanadium, manganese, sulphur… What distinguishes stainless steel from ordinary steel is its composition, which also includes chromium.
When the percentage of this chemical element exceeds 10.5%, in fact, a protective oxide layer is created which preserves the surface of the metal from any chemical agents, as well as humidity and salinity. The process that causes the formation of this thin and transparent passive film is known as passivation, a reaction that is activated when the metal comes into contact with oxygen.
Stainless steel, therefore, is a very tough alloy with important properties such as, for example, ease of processing, also using laser technologies: processes that create indispensable products for various markets, from the chemical to the food and pharmaceutical industries.
The main characteristics of stainless steel include:
lightness;
shine and brilliance;
heat and corrosion resistance;
low maintenance;
ease of cleaning;
high bacterial removability.
In addition, stainless steel does not need protective coatings.
Stainless steel applications in the food and medical sector
Being a biologically neutral material, stainless steel does not change the colour, smell or taste of the foods or substances it comes into contact with. In addition, its smooth, non-porous surface is antibacterial and very easy to clean, making it perfect for storage, as well as for preserving food and substances used in medical and cosmetic applications, removing the risk of contamination.
Stainless steel in the food processing sector
Stainless steel can be used to manufacture machinery, products and assemblies that involve contact with food. As a matter of fact, stainless steel is the only material suitable for coming into contact with food and can be used in numerous processes for both the domestic and industrial sectors. For example, at Metal's we can produce and assemble semi-finished products and components such as:
accessories for large kitchens (including pasta cookers, frames, braising pans, oven chambers, oven doors assembled with glass and other materials, stainless steel furniture, roasters, fryers and hobs);
accessories for the ice cream sector;
parts of machinery for professional cafeterias and vending machines;
meat processing systems;
bakery and oven accessories (such as pizza presses, oven chambers, oven doors);
standard and industrial dishwashers;
refrigerators and other refrigeration products.
On the other hand, in the market for complex assemblies and machine parts, we mainly manufacture equipment that comes into contact with food (such as mincers, meat processing machines, slicers, homogenisers, liquid and solid separators); bottling machinery, as well as food and beverage processing and packaging.
Stainless steel applications in the medical sector
Just like the food industry, the pharma sector requires special care and stainless steel is recommended for various productions because it resists:
to corrosion, a quality that removes the risk of contamination, even in the case of products with volatile particles;
to extreme temperatures, which in the pharmaceutical and chemical sectors are often extremely low (due to cryogenesis).
At Metal's, for example, we produce and assemble semi-finished products, machine parts or complex assemblies, including X-ray equipment in painted steel. Professional equipment such as washing tank units used in hospital and private facilities, which we also complete with galvanic or electrochemical treatments to further increase their strength.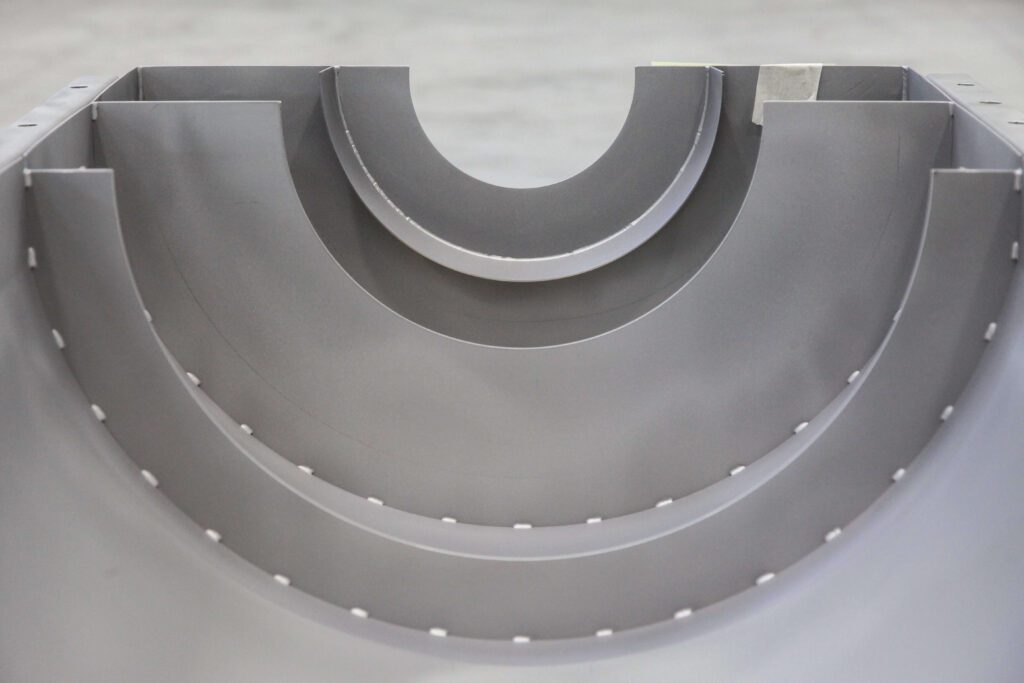 A safe manufacturing process
As we have seen, stainless steel can be used in many sectors. At Metal's we can carry out all kinds of processing, also thanks to an up-to-date, state-of-the-art machines fleet. The examples we have mentioned represent only a part of what we can achieve: we are always open to new challenges. Every time we receive a project, our technical staff evaluates its feasibility, suggesting the best solution that meets all the objectives, both in terms of cost and quality indicated by the customer.
In the production phase, we also pay particular attention to the quality of the product from an aesthetic point of view because many of our complex, semi-finished assemblies are exposed to the public (this is the case, for example, of professional coffee machines and vending machines for large-scale distribution).
An important clarification. At Metal's we have decided to process only stainless steel to avoid contamination by other types of metal. In this way, all machines, equipment and environments are not contaminated by the processing of other metals and we can offer safe products for the medical and food markets. As regards, then, orders that involve the combination and assembly with materials other than stainless steel, we have chosen to handle separate processing environments: a precaution that prevents metal from being compromised.
Do you want to know more?
Is your company in the food processing or medical sector? Rely on Metal's to realise your projects. We will follow you in all stages: from consulting through production to delivery.